Roasting Dishes
Roasting dishes are an essential item in any family kitchen. The heavy-gauge steel core of an enamelware roasting dish, provides the advantages quality of conducting heat quickly, speeding up the cooking times of your recipes and ensuring a crisp exterior on dishes, such as roast potatoes.
At Falcon enamelware, we have a range of roasting dishes to suit a variety of requirements. Our Bake Set is great for creating feasts for the family, our 5 piece Pie Set provides everything you need for a warming winter pie or pudding, and our extra-long Loaf Tin helps create the perfect rise on a loaf of homemade bread.
Benefits of using enamelware for roasting
1. Unbreakable
Dropping kitchenware happens. The advantage of our enamel roast dishes is that if dropped they may chip but will never break. This allows you to continue to use them even after many drops and bumps.
2. Easy to clean
All our enamelware roasting dishes are dishwasher safe, saving you hours of scrubbing in the sink. If there is a tougher stain that won't budge, simply sprinkle salt onto the stain and cover with lemon juice. Leave this mixture to soak in and then scrub off with a sponge and clean with warm water, and your enamelware will be back to looking as good as new! Added a light layer of oil to your roasting dish before cooking can also make it easier to clean after cooking.
3. Consistent and even cooking
Made with a heavy-gauge steel core, our enamelware roasting dishes are an excellent conductor of heat. This is advantageous when roasting large amounts of vegetables as it ensures everything cooks evenly, as every part of the roasting pan will be the same temperature.
Taking care of your roasting dishes
To help your roasting dishes last many years of use there are a few simple steps to follow:
1. Avoid using heavy-duty and toxic cleaning products
We love using natural cleaning products on our enamelware, such as lemon and salt. This not only protects your enamelware but also protects the environment as it reduces the amount of toxic chemicals entering the waterways.
2. Don't use in the microwave
As enamelware has a steel core it should never be used in the microwave.
3. Use gentle cleaning tools
To remove tough stains, try and use a wooden cleaning tool or the back of a wooden spoon. The flat edge will help stains come off easier and avoid scratches on the enamel that can occur when using metal cleaning tools.
4. Spray with oil before cooking
A light mist of oil on your roasting dishes before cooking helps reduce sticking and makes cleaning up afterwards a lot easier.
5. Adjust the heat of your enamelware carefully
When roasting things in your enamelware try and warm the pans gradually and cool them down slowly. For example, allow your pan to sit in the oven after use and let it cool down slowly instead of running it under cold water immediately. This helps to prevent your enamel kitchenware from warping.
Roasted Rice with Tomato and Garlic Confit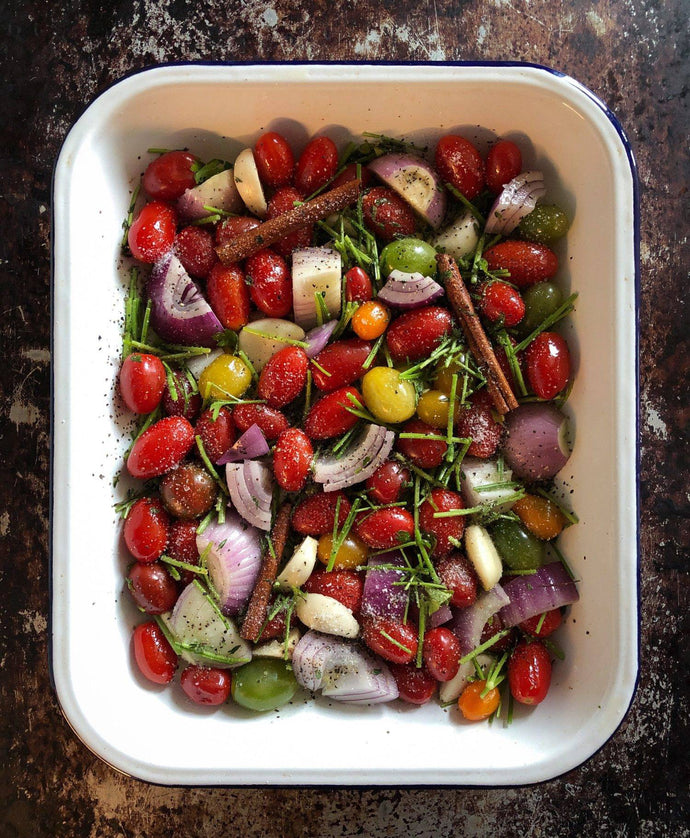 Ingredients
800g cherry tomatoes
12 large garlic cloves or 25 small, peeled and cut in half if large
4 large shallots cut into 3cm pieces
1 bunch coriander stems cut into 4cm lengths. Save the leaves for garnishing
3 tbsp thyme leaves
4 small cinnamon sticks. If large, break in half
100ml olive oil
Salt and fresh cracked pepper
300g basmati rice
600ml boiling water
Method
Our Roasted Rice with Tomato and Garlic Confit recipe works throughout all seasons. In the warmer months serve cold as a side salad at a BBQ, and during the winter serve hot alongside a warming stew.
PREPERATION TIME: 15 MINUTES
COOKING TIME: 1 HOUR 30 MINUTES
SERVES: 6
1. Preheat the oven to 180C
2. Arrange the tomatoes, garlic, shallots, coriander stems, thyme and cinnamon sticks in a large roasting dish. Our large tray from our bake set or largest pan in our Pie Set works well here.
3. Pour in the olive oil, 1/2 tsp of salt and 1/2 tsp of pepper to the Roasting Dish. Place in the oven, uncovered, for 1 hour until softened. Remove from oven and sprinkle the rice all over the vegetables, but do not stir them together. Set aside.
4. Increase the oven temperature to 230C. Sprinkle 3/4 tsp salt and 1/2 tsp of pepper over the rice.
5. Carefully pour the boiling water evenly over everything. Seal the dish tightly with tin foil.
6. Bake in the oven for 25 minutes, until the rice is cooked. Remove and set aside for 10 minutes. Do not remove the foil. The residual steam will finish cooking the rice perfectly.
7. Remove the foil, sprinkle with chopped coriander leaves, stirring them gently into the rice. Serve in the Roasting Dish.