Plate Set
Our versatile and popular plate sets are suitable for year-round use. For small dinner parties in the colder months of the year, to large picnics outside during the summer, our enamel dinner plate sets prove to be an essential element of any feast.
Featured Products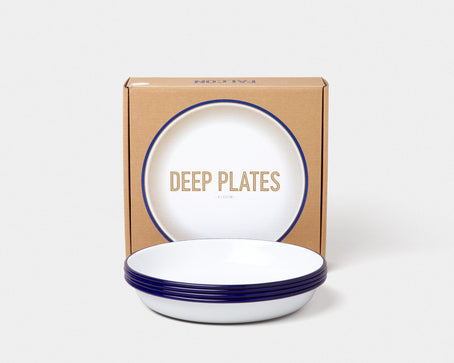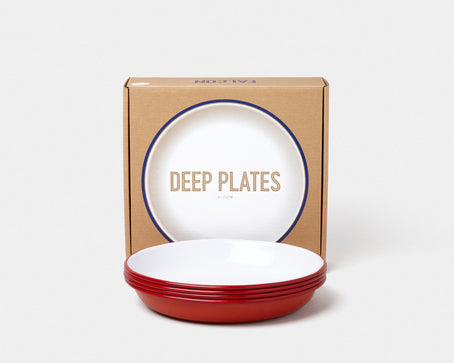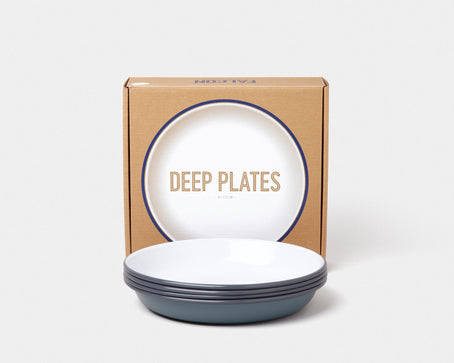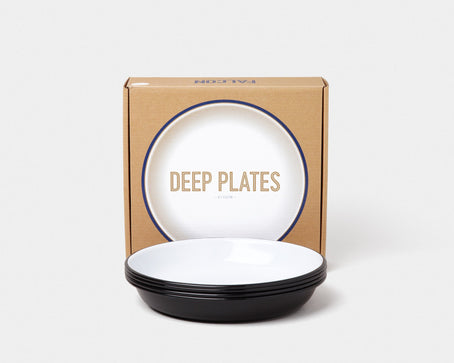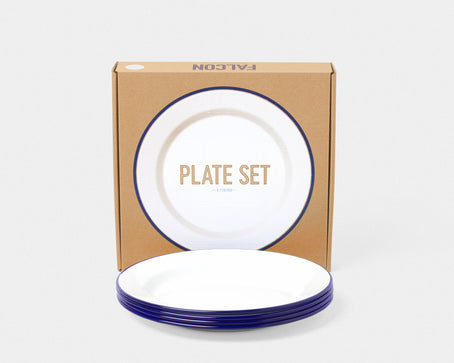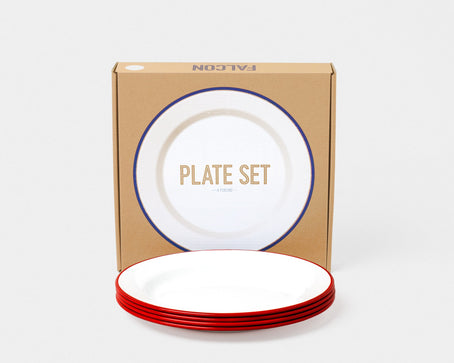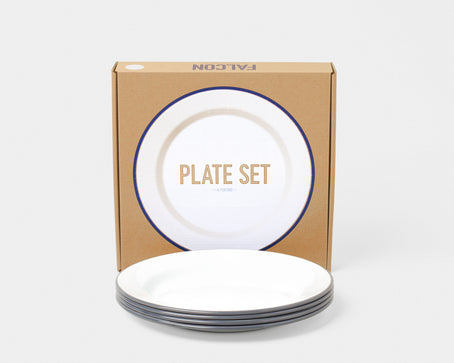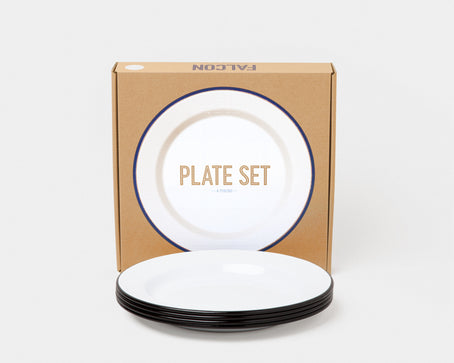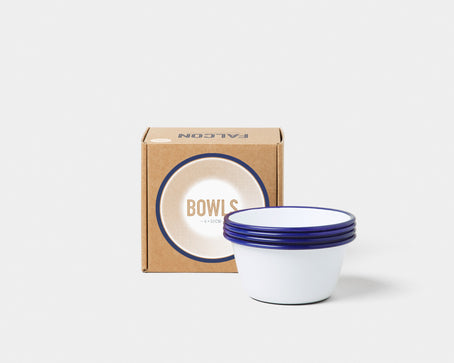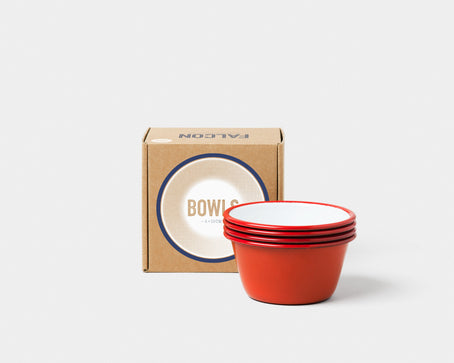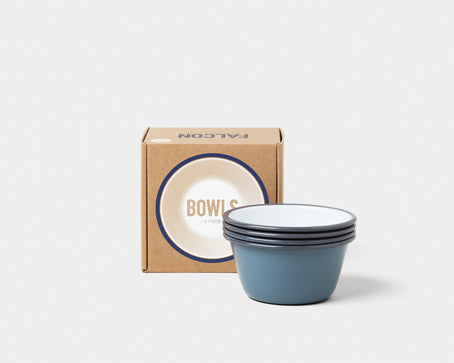 The 24cm Plate Set includes four 24cm plates, whilst our Deep Plate set includes four 22cm plate. Both are available in our core collection of colours, giving timeless appeal.

Each plate is carefully made, with each individual piece being finished by hand. The product form is pressed from a sheet of heavy gauge steel, which is then dipped in a liquid porcelain, and fired onto the steel in a furnace. This traditional process ensures that every Plate Set is sturdy, durable and therefore strong enough to endure years of use.

Our 24cm Plate Sets are the perfect plate for all day use from toast at breakfast to tapas-style dinners. Additionally, our plates are dishwasher safe making the post party clean up a lot easier.

Our Deep Plate Sets are the perfect size for piling high with comforting pasta or vibrant salads. During the winter months, use your Deep Plates to enjoy slow-cooked stews and casseroles.

For friends that love to host, a dinner set of plates is a great gift that will keep on giving over many years of use. Sold in a set of 4, it provides your recipient with enough plates to host small and intimate dinners with friends or family.
BAKED TURKISH EGGS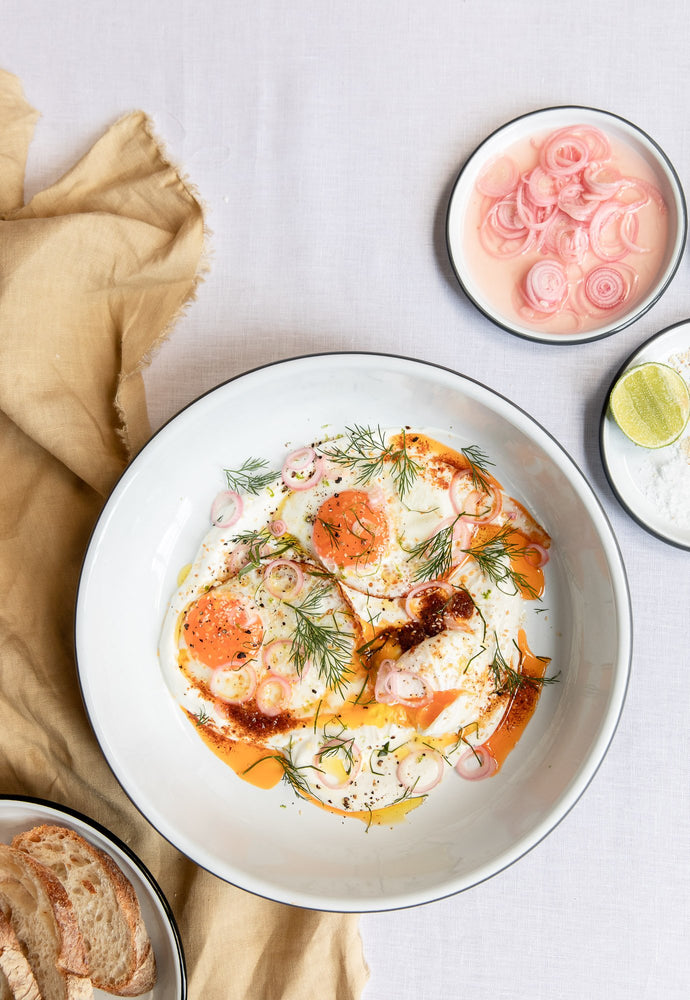 Ingredients
180ml extra thick Greek yogurt
½ clove of garlic – finely grated
several turns of freshly ground black pepper
4-8 Heritage breed eggs – poached or fried
4 generous glugs of rapeseed oil
1 clove of garlic – grated
3 tsp of sun-dried tomato paste
2 tsp of sumac
1 tsp of Turkish chilli flakes
1 fresh red chilli – finely chopped
generous sprinkle of sea salt flakes
2 banana shallots – finely sliced into rings
generous glug of red wine vinegar – enough to cover shallots
squeeze of ½ lemon (use zest for garnishing)
3 tbsp of sesame seeds – lightly toasted until golden
2 fresh kaffir lime leaves – very finely sliced
Several sprigs of dill
zest of ½ lemon
Method
Begin by combining the Greek yogurt, garlic and seasoning and set to one side.
In a frying pan, combine the rapeseed oil, 1 grated garlic clove, tomato paste, sumac, chilli flakes, fresh chilli and a generous sprinkle of sea salt flakes to make the Chilli flake drizzle. Taste and adjust spice and seasoning according to your preference. Set to one side until ready to serve. (I like to triple the recipe and have some to hand to add to pretty much everything.)
Prepare shallots, slicing into fine rings then cover with red wine vinegar and lemon juice until ready to serve.
Prepare your garnishes, lightly toasting the sesame seeds in a dry frying pan until golden. Finely slice your kaffir lime leaves.
For the poached eggs, bring a large pan of water to a simmer. Gently pour in the egg, cook for 2 minutes then turn off the heat and allow to continue to cook for a further 8-9 minutes (if making a large batch, transfer to a bowl of ice water to ensure they don't over cook.)
Using a large flat bowl or platter, spoon on the thick Greek yogurt and spread over then place the poached eggs in amongst the yogurt. Pour over the Turkish chilli flake drizzle then scatter over garnishes. Finish with a little extra black pepper. Serve at room temperature with fresh sourdough.
The rich history of outdoor dining
The origin of the picnic in Britain dates back to the Middle Ages with food being brought outside to the huntsmen whilst they were working. However, picnics did not take place in the UK as we know them until the 18th Century. During this period, many French aristocrats fled to the UK following the French revolution and brought with them the custom of picnics. During the 19th century the phenomenon of picnics took off, with members of the middle class enjoying them outdoors, and even a 'picnic society' started in London, which involved a mixture of dining and putting on amateur plays.
Whilst the history of Falcon Enamelware doesn't date back quite as far as the history of picnics, the Plate Set have an iconic and timeless design that fit as much into a modern day picnic as they would throughout the long history of outdoor dining. As Somerset Maugham acknowledged 'There are few things so pleasant as a picnic eaten in perfect comfort'. A luxury that the sturdy yet elegant Plate Set brings to any picnic setting.
BAKED OATMEAL WITH BERRIES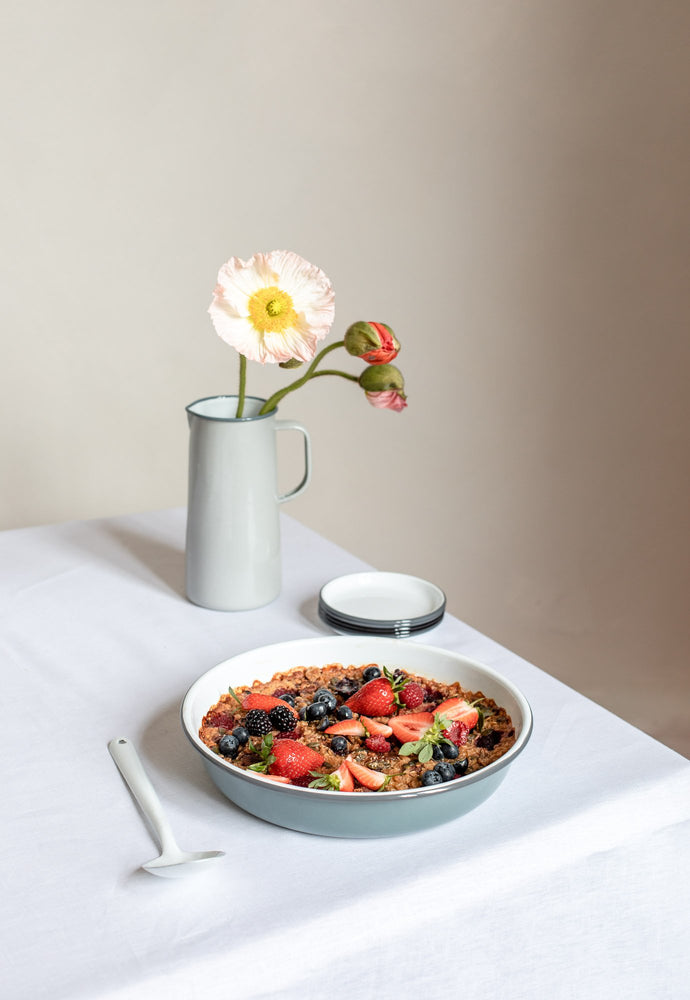 Ingredients
250g giant rolled oats
A handful of pecans
60g light brown sugar or maple syrup
1 tsp baking powder
1 tsp cinnamon
¼ tsp nutmeg
A sprinkle of sea salt flakes
800ml coconut/almond milk
1 large free range egg
65g melted butter
1 tsp vanilla bean paste
200g mixed berries or seasonal fruit
60g pumpkin seeds
2 tbsp brown sugar
Extra fresh fruit- optional
Method
Preheat the oven to 190 degrees Celsius.
Butter your baking dish, a dish around 18-20cm wide is perfect.
Combine the dry ingredients by mixing together your oats, pecans, sugar or maple syrup, baking powder, cinnamon, nutmeg and salt.
In another bowl combine the wet ingredients by mixing together your milk, eggs, butter and vanilla bean paste.
Pour in the oat mixture then scatter over half of the berries followed by the wet mixture. Take a spoon and gently mix. Finish with the remaining fruit.
Bake for around 30-40 minutes until the oats have set. Five minutes prior to removing from the oven scatter over a little brown sugar and allow to turn a light golden brown colour before removing from the oven. Serve warm as is or add a little extra fresh fruit.