Individual Pie Dishes
As one of our most iconic products, the individual pie dish benefits from being both functional and timelessly elegant. From one-dish dinners to moreish desserts, this small pie dish opens a vast array of possible recipes to cook solo portions or for your friends and family.

Our individual pie dish can be purchased in a set of 4, but also available within some of our larger sets, such as out Bake Set and Pie Set. Our Pie Set includes one individual pie dish along with four other pie tins increasing in size, providing the option to cook for anywhere from one person to a large dinner party of people. Two individual pie dishes are also included in our bake set, as well as 3 baking trays in a variety of sizes, perfect for any traybake or dessert lover. The largest of the bake pans is even big enough for roasting a turkey!

Our Pie Dishes provide an ease of cooking, as they are perfectly suited for oven to table dining. As all our enamelware is safe to put in the freezer as well as in an oven of up to 270 degrees Celcius, these dishes are suitable for batch cooking and meal prep. You can prepare your lasagne, pie or stew in advance and freeze or refrigerate the dish, then when you are ready, simply allow to defrost slightly before putting it into the oven, additionally saving time on washing up!

For dinners with friends and family, the appearance of pies or desserts served in one of our individual pie tins is a crowd pleaser. Alternatively, the dishes are a great size to hold side dishes and small salads or can be used in the fridge to store leftovers.

Featured Products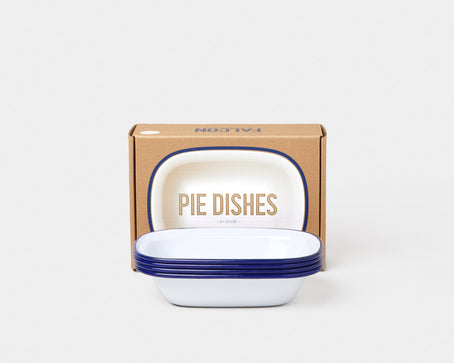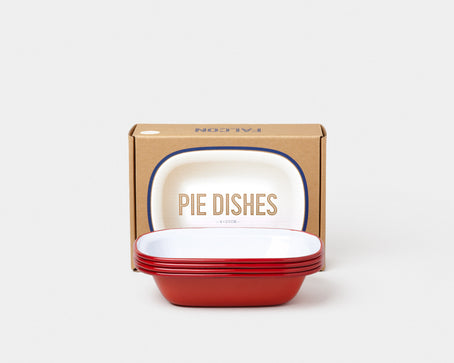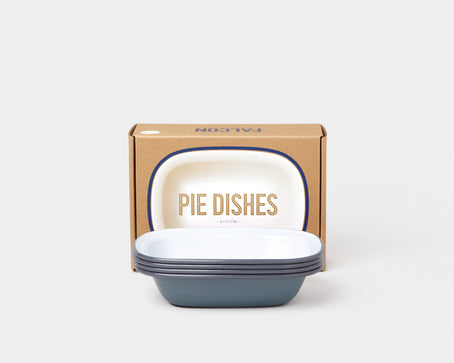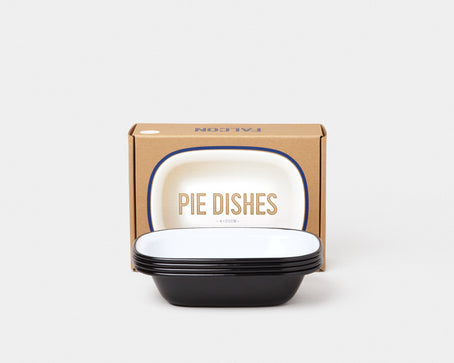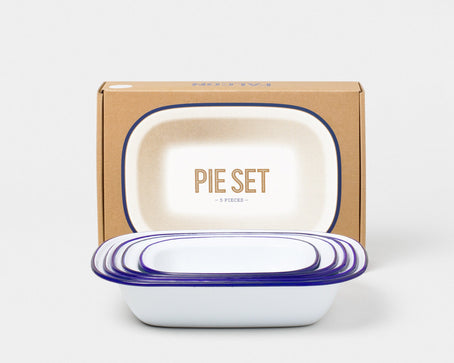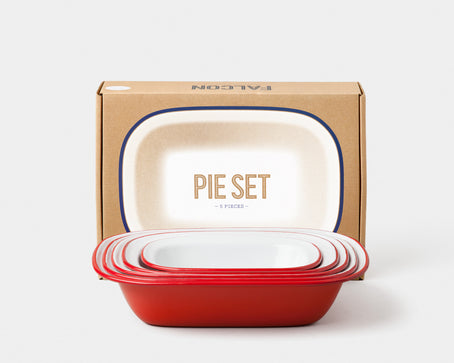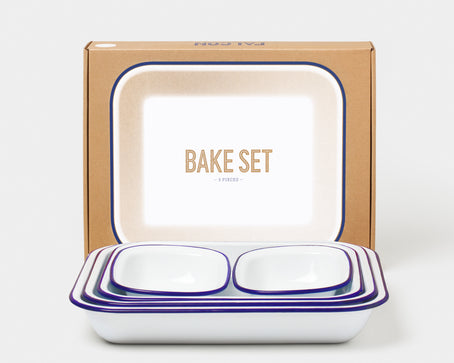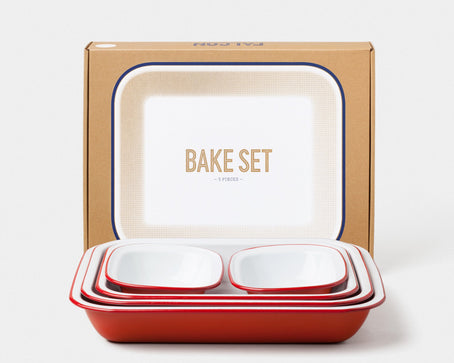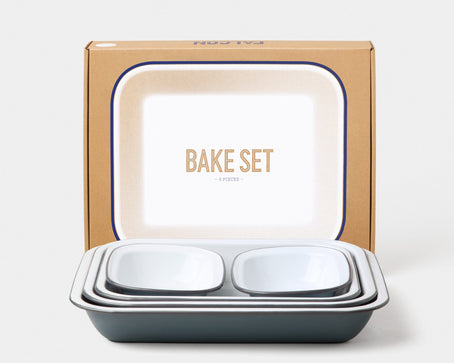 Individual pie dishes are the perfect accompaniment to all kinds of dinners - family meals at home with your nearest and dearest, as well as elegant dinner parties hosted with class and charisma. No matter what cuisine you're into, you can utilise an individual pie dish to create something delicious. Despite the name, you need not contain yourself by using a pie dish for nothing more than a simple pie, as there are thousands of recipes that you can follow (both sweet and savoury) to make use of your individual pie dishes. 
Those who have a passion for baking can utilise individual pie dishes in so many different ways, as there are many different sweet treats that one can create and bake inside such a versatile piece of enamelware. All kinds of traditional sweet pies can be made smaller for use inside an individual pie dish, from scrumptious apple pies to tangy cherry pies, both boasting layers of buttery pastry.
You can also make more creative dishes in your individual pie trays, including tartlets, key lime pies, mince pies and so much more! To add to this, you can cook up delicious, super fast cakes inside your individual pie dishes, including sheet cakes and tray bakes, as well as simple sponges and indulgent brownies. You're sure to get your sweet fix when you have an individual pie dish on hand to help you bake up something beautiful!
Foodies who love savoury meals will go wild for individual pie dishes as soon as they realise just how many tasty recipes one can whip up with the help of such a functional piece of enamelware. Basic yet homely chicken and steak pies are no doubt the first idea that comes to mind, but you may be surprised to find out the sheer volume of tasty combinations that you can pack inside a sheet of pastry.
If pastry isn't really your thing, then perhaps shepherds or cottage pies made out of fluffy mashed potatoes might take your fancy? Savoury tarts and quiches can also be made using individual pie dishes, proving that no kitchen is complete without such a handy piece of kit! 
Our enamelware and individual pie dishes were first manufactured in the humble Black Country area from around the year of 1920, and their distinctive ice white body along with the bold blue rim is a classic design which is still instantly recognisable to this day.
We have crafted brand new colours and cookware sets, and spent considerable time and energy adapting our original lines to make them more durable. Our enamelware is made up of porcelain which has been fused onto heavy-gauge steel, giving it several sought after qualities including strength, smoothness and chemical resistance. It can take on and maintain brilliant long lasting colours and it cannot burn. If you accidentally drop your enamelware then it may chip, but it will not break. It's 100% dishwasher and oven safe (up to temperatures of 530F or 270C) and it can even be used on both gas and electric hobs!